Managing Devices
You can modify any of your devices, by clicking the View More link at the bottom of the device cards on your dashboard.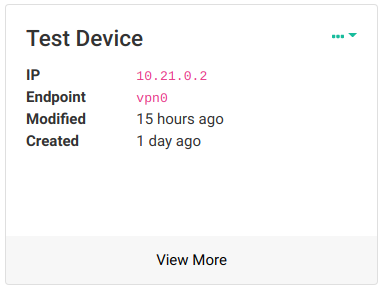 This will bring you to the device settings page

The components on this page are as follows:
Device Details – You can rename the device or assign a new IP (if allowed by your administrator) by modifying the fields in this section and saving your changes.
Delete Device button – To delete the device permanently, click this button. After confirming the deletion, you'll no longer be able to access the VPN via this device.
Public key options – If you want to change your WireGuard® encryption keys, use the options here. If you choose to reset the key, you'll be given the option to download your new configuration files. For more information on the options here, see the device setup guide.
---